---
A smart, easy way to duplicate access cards!



Copy your access cards instantly with the help of the Handheld 125KHz EM4100 RFID Card Copier Writer. This device helps you clone 125 KHZ RFID cards so you have duplicates in case you lost the original. It can even write and transfer access details to key fobs and lets you bring them like keychains.
Benefits:
Copy all RFID cards.

 

No more going to shops to have your access cards duplicated. With this smart device, you can duplicate your apartment, school, office, or parking lot entry cards for backup purposes right at the comfort of your home. It can copy and read EM/TK cards and keys like EM4100, TK4100, and more (Note: it can't copy and support HID cards).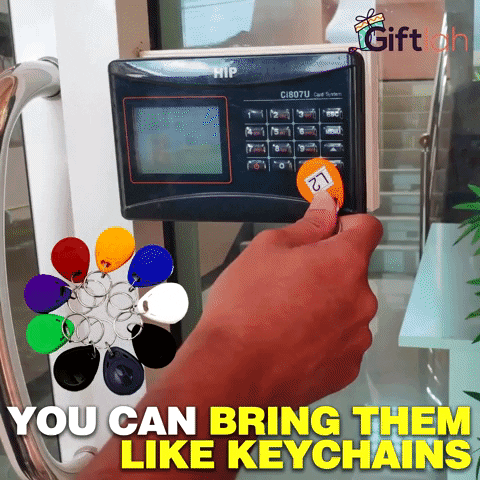 Make them easy to bring anywhere. It can also transfer the access details to key fobs so you can bring them like keychains and attach in your belt or bag for easy find. Offers easy access and identification to any place with access controls.
Easy to use.

 

The device comes with a user manual to guide you on how to use it and will only take minutes to complete the copying process. It's also handheld and comes with a finger-grove handle for easy grip.




5 different sets to choose from.

 

You can buy the RFID card copier/writer alone or along with different key fobs and cards which can be helpful especially if you like to copy multiple access cards.
How to use:
Switch on the device and it will beep 3 times.
Next, put your access card in the scanning area of the device. Then press the 'READ' button. Once the green LED light flashes with beep sounds, the copy is successful. 
Finally, put a key fob or blank card to the scanning area of the device and press the 'WRITE' button. When the yellow LED light flashes with beep sounds, the transfer of access details is successful. And you're done!
NOTE: Please allow 15-25 Business Days for shipping
Click YES, I WANT IT NOW to grab yours today!
Package includes:
SET 1
1 x RFID Card Copier Writer Only
SET 2
1 x RFID Card Copier Writer
10 x Key Fobs
SET 3
1 x RFID Card Copier Writer
5 x Key Fobs
SET 4
1 x RFID Card Copier Writer
5 x Cards
SET 5
1 x RFID Card Copier Writer
5 x Fob Keys
5 x Cards
Product Specifications:  
Material: Plastic
RFID Copier/Writer Size: 115 x 70 x 30 mm
Weight: 85g
RFID Copier/Writer Color: Blue
Key Fob Color: Black, Blue, Violet, Red, Yellow
Card Color: White
Read:  EM/TK (EM4100 TK4100, etc.) cards or keys
Record: EM4305 CET5557 T5577 5200 EM4205, etc. cards or keys
(Note: doesn't support HID cards)
Times: Read / Write > 20000 times
Powered by: 2 x AAA batteries (not included)